As deep freezing temperatures have vanished across much of the Canadian Prairies this week, spring begins its annual relief with thawing and melting well under way. By the looks of the snow cover maps, it is already very dry in the south west of Saskatchewan, including southern Alberta. There seems to be a dry line south of the Yellowhead Highway as cities such as Edmonton, Lloydminster, Saskatoon and Yorkton have the deepest moisture with the winter snow pack.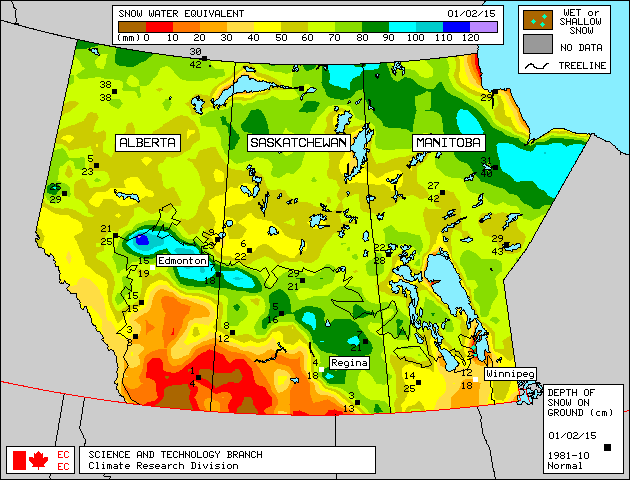 Map from Environment Canada
This means, the heat will be on early in the south west and without any significant rain or snow, it will be a very dry start to spring with more chance of dust storms this year. Hopefully, the drought does not spread to the rest of the farm belt. With very much normal snow packs along the Yellowhead, thunderstorms may have a difficult time getting too strong and tornadoes may be non-existent this summer in western Canada. All of this can change rapidly of course as spring showers often bring May flowers!
Here is a look at the current North American Snow Cover Map courtesy of NOAA:
Also of note, the spring migration is just getting under way and you can see the progress of our natural seeders and fertilizers fly closer to your area via the
Ducks Unlimited website
.
Stay tuned to this blog for more updates on stormy weather this year!